Book Collecting Guide
1939 New York World's Fair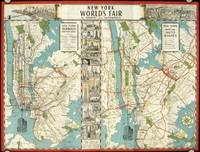 It is difficult to overestimate the impact of the 1939 World's Fair. The concept was born in the middle of the Great Depression, and it was truly a mark of sincere perseverance and hope that the Fair actually came to fruition and was such a massive success. Millions of people from all over the world travelled to Queens, New York to bear witness to the dreams and aspirations of the global community, and almost $160 million went into to making those dreams a reality.
Full of art and science exhibitions, the 1939 World's Fair also featured an "electric stairway" that shocked all those who encountered it with its ease and efficiency. King George VI and Queen Elizabeth even paid a trip to the Fair, which was particularly impressive given the state of Europe at the time.
The theme of the Fair was "The World of Tomorrow", and that essence was certainly captured. We are lucky to have so many Biblio booksellers who have collected such interesting books and ephemera relating to that spectacular event, and many of those items can be seen below. Not only are books relating to the Fair available, but there are also posters, souvenir books, and brochures from the Fair itself.
If you know someone who would like to own a bit of New York or global history, then any of the items below would make a tremendous gift.